Section 2.0 Advanced Class (back to index)
This section is for the more advanced guitarist, and for the beginner to study until they are ready to try a difficult part. The RealMedia video clip shows the entire guitar part for the busker song 'Voice of a Buddha'. You can listen to the Real Audio file of this song and read the lyric here ->

Note that the song is played at capo III (Third position) using the chords (only two !) shown here.
V means fret five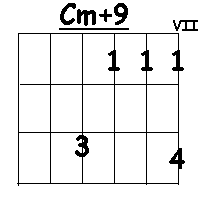 VII means fret 7
Unternet Busker ' Voice of a Buddha' Real Media video file.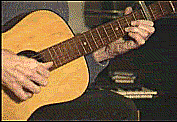 ---

The busker is currently taking a small and carefully selected input of new guitar students. Should you live in Fife, Scotland and require guitar lessons email lu(at)busker.net [replace (at) with @] The busker specialises in teaching beginners,children and those with learning difficulties. He teaches classical, flamenco, rock, folk and bass guitar.